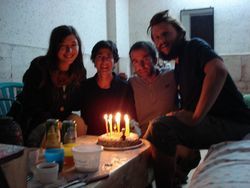 In Shiraz we checked how much money we still had and realized that we couldn't go on the Persian Gulf in the South, especially because we had to keep enough dollars and time in case that we couldn't cross the Pakistan border. Indeed for two weeks, the
Pakistan
president Musharraf had declared emergency rules in his country and everything was uncertain. We spent a last evening with our two Spanish cyclist friends, Aurora and Ruben, who celebrated their 10 000 kilometers of cycling and we made for Zahedan. In fact, formalities to enter
Pakistan
were very briefs and we just had to cross one gate to get into a completely different world. Suddenly everything was dirtier, dustier, poorer and more polluted. But everything was also much fuller of scents, flavors, colors and life. From the make-up and orange beards of men to the beautiful kamiz -traditional
Pakistan
cloth- of women (I mean when you have the chance to see one under their huge black veil), through the paintings on every single truck.
We took a tchai among dozens of flies (in the shop on the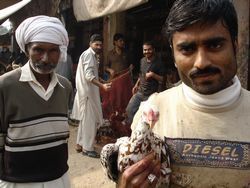 photo on the right) and it was the beginning of three days of rough journey in buses without any shock absorbers on damaged roads in an insane traffic. We thought to cycle a little bit but locals prevent us from doing that. According to the current tensions and the lack of information we had -and anyway we had only a transit visa so we couldn't stay long-, we preferred to keep the pleasure of cycling in
Pakistan
for another time. We just drived our bikes 20 kilometers before
Lahore
where we stayed three days.
We were very upset not to be able to stay longer. Pakistani people were very kind with us and we spent a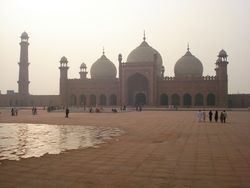 very nice time with them. They have a very sincere smile and most of them were very courteous with me. But I don't know if they behave so kindly with Pakistan women. In fact, apart in Lahore where there are tourists, seeing a woman in the street is very rare, and even if the law doesn't force women to wear the scarf -unlike in Iran- in reality the few women we saw all wore the burka. And we could really feel that Pakistan woman even don't have as many rights as Iran women have. I was completely appalled when I was turned down in an Internet coffee "where women are not allowed" because "it's a rule".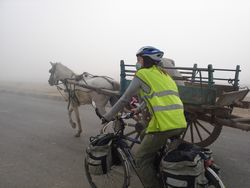 After visiting one of the biggest mosque in the world in one of the most polluted city in the world, we left Lahore -we couldn't breath anymore-. We arrived in India by Amritsar where we were hosted at the Golden temple (In India you can sleep in temples "ashram" most of the time for free in return of a donation). It's a very beautiful, charming and peaceful site which welcomes, accommodates and feeds hundreds of pilgrims every day; and as every sikh temples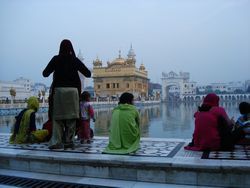 we saw in the Indian Punjab, it's very well kept and well organized. With regard to our route, we decided to cycle to the South of India it's really the best season to visit this region, it would have been a great pity to miss that chance- (concerning the continuation of our journey, as it's not possible to cross Myanmar, we still don't know whether we will take a boat from Chennai to Singapore or if we will cross Nepal, China and Laos).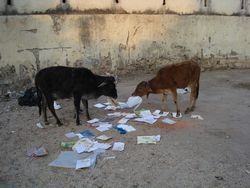 We left Amritsar toward Rajasthan. We cycled three days through cotton and tea fields of Punjab in an always dense and dangerous traffic, even on secondary roads. But believe me it's less frightening to cycle between trucks, bus, motorcycles, rickshaws, bikes, people, holy cows, and dogs than to take a bus. When you are in the traffic it's safer to slalom by yourself than to leave your life to an Indian driver. And we get used to their crazy way of driving very quickly. It's not the same for those dozens of ran over dogs or cows that we see every day and which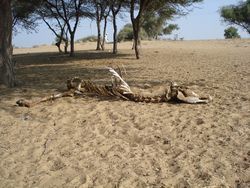 are left in the street until crows or other dogs have finished to eat them. All that among mountains of waste in sinister, crowded and polluted cities we crossed in this state. We entered in Rajasthan and noticed progressively the change of landscapes kilometer after kilometer as we get closer to the desert: less greenery, less humidity, less people but still ; it wasn't the dune-desert we expected and there was still little trees and grass everywhere. But in a drier atmosphere, dirtiness was more bearable, and also I get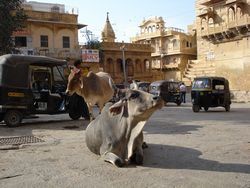 used to.
We had very busy days, cycled from 100 to 130 kilometers until we reached Jaisalmer, a city in the West of Rajasthan. It's a pity that the town center is still obstructed with bikers, rickshaws, added to dogs and so many holy cows (but those latter are charming) but the inconvenience apart, Jaisalmer is probably one of the most beautiful town in the world. The citadel is incredibly well-kept and the extraordinary architecture in golden sculpted bricks give a unique charm to the old city.
We then joined Jodhpur, the blue-city which hosts an imposing fort, by a small road, nearly quiet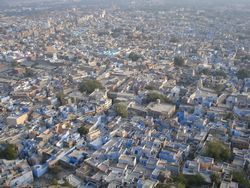 (only "nearly" because anywhere in India on the smallest, quietest road in the country, you can be disturbed by a big truck or bus with a powerful horn).
And at last, after hundreds of kilometers of flat and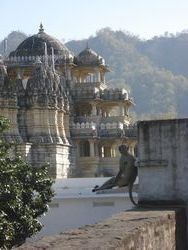 sometimes boring roads, we started to climb the only mountains-range of Rajasthan, from 200 to modestly 910 meters high, among parrots and monkeys, with a stop at the wonderful Ranakpur jain temples built in white marble : it was perfect!
Now we're having a rest in Udaipur, wondering if we should take a bus to Mumbai, so that we could be on the sea-coast for Christmas and have the time to cycle to the south end of India before the expiry date of our visa…


Estelle