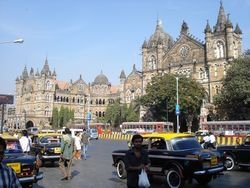 We went to Mumbai to apply for the Chinese visa. Indeed (as it's still impossible to cross Myanmar) we'd decided to reach Bangkok by crossing Nepal, Tibet, China, and Laos (for Nepal and Laos, you can get the visa at the border). Unhopefully the Chinese visa is valid for three months only -what is to short-, and the embassy asks for a flight ticket. So we'll have to apply in Nepal, but the problem is that we can only get it in tourist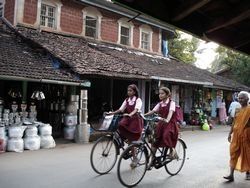 agencies, which provide very expensive permit to cross Tibet by group and public transport (or jeep) only, and after that you still have to make a new visa for China, what is very uncertain. If we can get a better price and/or bypass those obligations (as some cyclists have apparently already succeeded to do- we are now trying to find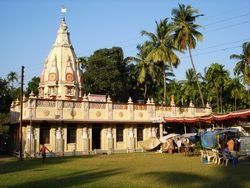 them on Internet), we will cross Tibet. Otherwise we will have to resign ourselves to taking a boat to South East Asia or a plane to Chengdu in China or to Laos,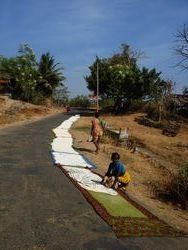 where we really want to cycle.
In the meantime, we have kept on cycling to the South, following the western Indian coast of the Maharashtra State : hundreds of kilometers of huge beaches lying as far as the eye can see, quiet fishermen villages, banana trees' and coconut palms' forests. We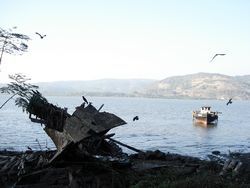 kept going in this tropical atmosphere enjoying the calmness of a more preserved, peaceful and wild India and the beautiful smiles of more relaxed inhabitants.
But the harshness of inhuman steep ascents, the bad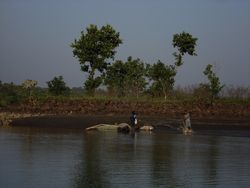 conditions of the roads (huge holes on the asphalt or sometimes only sandy or stony tracks), as well as the beauty of landscapes and the slow pace of life of the Maharashtri people forced us to slow down in our progression. Sometimes 50 kilometers of roller coaster are well enough under this crushing heat, sometimes we cannot help ourselves having a rest a few days in a small bungalow surrounded by kilometers of desert beach. Sometimes we just don't want to go to fast to better appreciate the charms of the country and the splendid nature … The real travel is "in the slowness" and I don't say that just because I'm tired.
Estelle