Some news from Nepal, Part 2
mMore pictures of the treck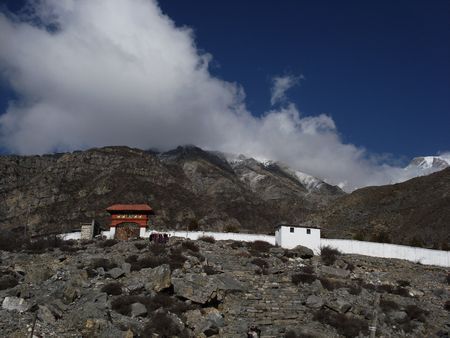 Muktinah, boudhist temple.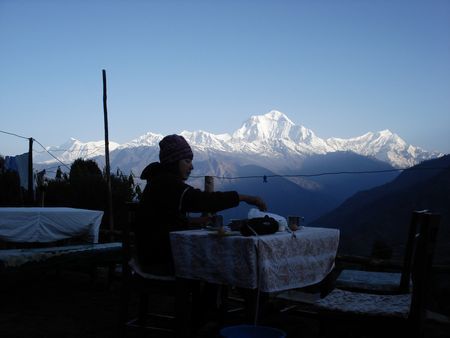 "I d like two croissants with butter, bacon and eggs, and two espresso coffee", finally it will be some cereals with cold water and two black tea but what panorama for breakfast!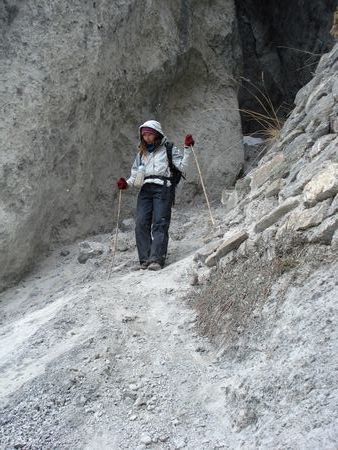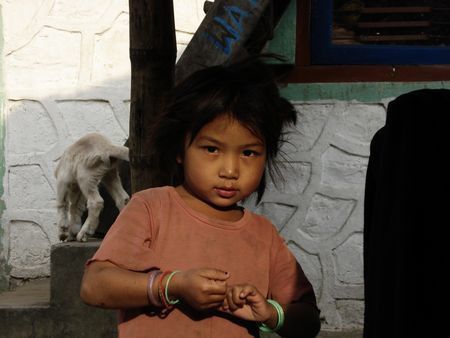 The daughter of the ghuesthouse s owner where we stayed for a night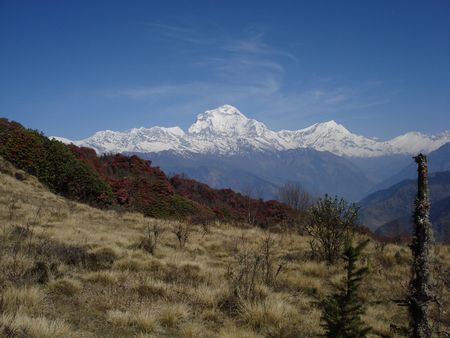 Around Gorepani, a forest of rhodendrons, behind the Annapurna range.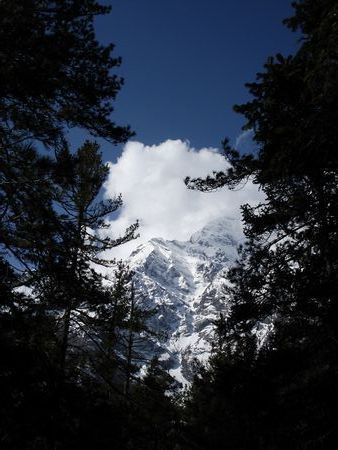 After high altitude, we are back in the forest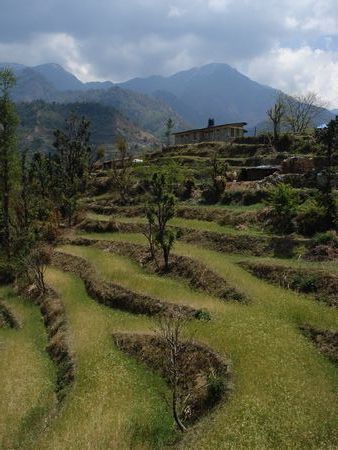 The nature becomes greener again.
Back in Pokkara. Then, after almost three days of cycling, 200 kilometers, a dusty and crowded pass at 1500 meters in a big traffic jam of trucks, one (first) crash (for me), one knee very well-repaired by Christophe...
Better than a professional nurse? not sure...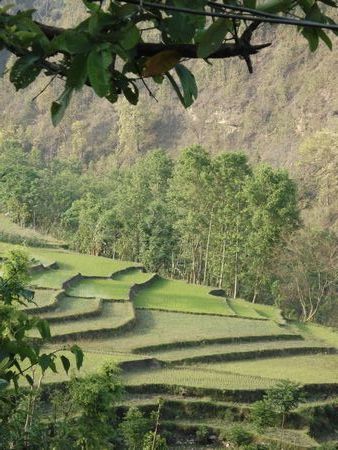 Some rice fields on the way to Kathmandou.
...we finally arrived in Katmandu! We were so happy to reach this mythic city with our bicycles, handlebars close to handlebars, hair in the wind. We joined Sven and Judith again and celebrated our arrival and our 10000 kilometers of cycling!!!, finishing the night in a club with two Irish guys we met and a crowd of young Nepali dancing on Nepali and Indian pop music.
And next morning, like in almost every capital city we passed, we had to deal again with administration. If you have followed the story, our last possibility to reach Thailand overland was to cross Tibet, China and Laos. Going from Katmandu to Lhassa was not easy and very expensive: you have to book an agency, pay a huge bill and you get only one month visa, which is really too short to go from Lhassa to Laos (3000 kilometers in very high mountains, passes at 5000m high). But anyway, with the last events in March, Tibet is now closed for foreigners « until further notice ». So we had resigned ourselves to fly to Chengdu, the nearest Chinese city where we can fly, before to keep cycling to Laos. And we never thought it would be a problem. But once at the Chinese embassy in Katmandu, our dreams fell again: « no more visas for foreigners, you have to apply in your own country. » It was a very new rule, three days before some French had applied for this visa!!!! Just three days!!! But we heard that if you have already been once in China, you still can have a chance to apply in Katmandu. We collected all the papers we could: our last Chinese visa, an invitation letter in Chinese from a friend in Chengdu, an invitation letter from an uncle of mine in Guangzhou, the birth certificates of my mother and me with her Chinese name, a flight reservation to Chengdu.
And we tried again, it was already ten days that we were in Katmandu. They accepted to examine our request. But after checking everything, even phoning our friend to check if it was not a fake, they asked again for a new paper, told us to come back in two days, what we did. And they made us wait again, three hours, then "come back this afternoon", and come back in one hour, and finally they told us« You know that we don't issue anymore visa for foreigners, they have to apply in your own country. But because you have already been in China one time and that you have relatives there, we can issue a visa. But you cannot have three months. We will issue you…. fifteen days »...Fifteen days!!! And why not three days or 24 hours!!! Fifteen days, it's just the time we need to go out of Chengdu, and maybe cycle on third the road to Laos which goes at 4500 meters high!
But, what can we do, we took it and paid 136 dollars for 15 days-visa! And we will still have to extend our visa, which seems to be very hard at this time.
Anyway on Saturday we will be in Chengdu, disorientated to arrive so quickly in a new country, but still so happy to go on!
See you.
Christophe and Estelle